Winter School 2020 - more information
Return to the Winter School web page
If you have any other questions, please email Winter School.
Apply for Winter School
Please answer the following questions in your application:
Personal Objectives - Please succinctly describe your current leadership role and responsibilities (min 50 words - max 100 words)
Departmental/Organisational Objectives - What are your learning objectives for Winter School? (min 50 words - max 100 words)
Personal Outcome Statement - How will Winter School help address the challenges in your work? How will you apply the learning? (min 50 words - max 100 words)
How much does it cost?
£500 + VAT. This includes:
access to the full Winter School learning programme
delegate pack
accommodation (Tuesday 4 February to Friday 7 February 2020)
breakfast, evening meal and lunch during the event
You must meet any personal incidental costs, such as, travel to and from the event. Bursary places may be available to third and voluntary sector organisations on request.
Please note: If you are awarded a place and later decide to withdraw from the programme, Academi Wales reserve the right to charge your organisation for the full cost, please see our website for further information.
Accommodation options and discounts
Winter School is a residential event and accommodation will be arranged for all successful applicants.
We can offer limited accommodation that provides multiple occupancy. These open plan and spacious rooms are in a newly built accommodation block and fitted to an exceptional standard with tea and coffee making facilities and offered at the reduced rate below. Please note that all other rooms are single occupancy.
We are therefore offering limited sharing accommodation at a reduced rate and the following discounts would apply.
| | |
| --- | --- |
| Single occupancy | £500.00 per delegate |
| Double occupancy | £350.00 per delegate |
| Triple occupancy | £200.00 per delegate |
You may wish to consider this as an option when selecting and identifying those who you would like to put forward for a place from your organisation. Please note that allocation of these rooms will be considered as part of the selection process for Winter School.
Large rooms
Large rooms, comprising of a lower and mezzanine floor, 3 single beds on each floor, a shared bathroom with toilet and separate toilet and washbasin situated on the lower floor.
Twin rooms
Twin rooms, comprising of 2 single beds and a shared bathroom with shower and toilet.
These rooms will only be used for multiple occupancy where pre-requested.
For further details please contact the Winter School mailbox.
Pay your course fees
If your application is successful, our procurement guidelines are such that we will need to invoice your organisation for the relevant amount following your attendance at Winter School.
For Non-Welsh Government applicants
When you complete your application form we will ask you for the following information:
the name of the person who will be responsible for arranging payment for your delegate place
the name of the organisation who is paying for you to attend
the name and email address of your billing/responsible officer
Once your place has been confirmed, we will contact the responsible person / billing officer to provide us with a purchase order number. If you do not know your billing officer at the time of completing the application form, please insert your own details and we will contact you for these details. To secure your place it is important that you provide the above information.
Invoices will be sent and fees collected following the event.
If you need any further details on the invoicing requirements please contact our Finance Manager.
Create your purchase order
Please use the information noted below if your organisation needs to set up a purchase order to cover these costs:
Supplier
Welsh Government
Crown Buildings
Cathays Park
Cardiff
CF10 3NQ
Contact: Academi Wales
Telephone: 03000 256 687
Email: academiwales@gov.wales
For Welsh Government applicants
When you complete your application form we will ask you for the following information:
your WG finance manager's email address
If your application is successful, we will contact your finance manager who will be asked to supply activity and profit centre codes for payment of the fee of £500 per delegate (no VAT applies). Journal transfers will be issued and course fees collected after the event.
Anyone named as a billing/responsible officer contact must have been consulted and given approval prior to you providing their details
If you need any further details on the transfer requirements please contact our Finance Manager.
Prepare for Winter School
General timetable – opening and closing of event
Tuesday 4 February 2020
11am: registration and accommodation allocation (if you're arriving before 11am please let us know)
12pm: lunch
1pm: programme begins
Friday 7 February
Do I have to stay for the duration of the event?
Yes – delegates must attend the whole programme. It's been purposefully designed and you will not realise the full benefits of the programme unless you complete all aspects.
What if I live locally to the venue – can I commute?
Yes – however, we encourage you to take advantage of the residential part of the programme. If you live locally you may commute to and from your home - please let us know as soon as possible if you don't need accommodation. Non-accommodation delegates must still pay the £500 + vat contribution.
Child care / crèche facilities
There are no child care or crèche facilities available. You will be expected to make your own child care arrangements.
Meals and refreshments
Meals and refreshments are included within the programme (however alcohol, bar or café purchases are not covered).
Breakfast: between 7.30 and 8.30 am daily
Dinner: 7.30 pm.
There is a small cash bar and coffee shop on site. Please note: there is no cash machine at or near the venue. Please withdraw cash in advance if you plan to use these facilities.
Special dietary or other medical/access requirements
Please note on your application form if you have any medical or specific dietary needs. If necessary we will contact you to discuss nearer the event.
Welsh language
Winter School is delivered in English. However, delegate packs and materials are provided bilingually.
Mobile/internet connection
Due to the remote location of the centre, mobile phone signals may be patchy. However, landline access is available 24/7.
WiFi is available in all areas except the chapel
What should I pack?
A torch: Nant Gwrtheyrn is a small site but, because of its location, moving between the function hall and accommodation (especially later at night) can be particularly dark, so you may wish to bring a torch.
Toiletries, hairdryers etc
Cash (please note: there are no cash points or shops in the close vicinity)
General supplies may be useful tea, milk and biscuits, as some of the cottages have kitchen areas (however, all other food and refreshments are provided during the event)
Dress code
Classroom sessions - please feel free to adopt a casual dress code.
Walk - we recommend that you bring suitable warm, comfortable clothes, outdoor weather gear and sturdy footwear with you. The weather will be unpredictable and can get very cold.
It has become a tradition for Winter School delegates to go on an early morning coastal path walk before sessions start. If this is something that you may be interested in please bring with you a torch, suitable footwear and appropriate warm clothing.
Photography/video recording
We reserve the right to take photographs / video footage during the event which may be used for publicity purposes and for the production of learning information.
Personal preparation
Where applicable, you must complete all pre-work set by the speakers.
Delegate hub
Successful delegates will be invited to enrol onto the Winter School Delegate Hub. This is a secure closed site and can be accessed anytime, anywhere and on any device. The Hub will provide the opportunity to share important information leading up to the event, have discussions and network with your fellow delegates.
It is important that you log onto the Hub to receive regular updates and key information about the programme.
(Please note: you will require a minimum of Internet Explorer 11 to access the Delegate Hub).
Travel
Train
Car sharing
Once the delegate list is confirmed, with your approval, we'll share the contact details. You can then make your own car sharing arrangements for travel to and from the event.
Contacts
Winter School Team
academiwaleswinterschool@gov.wales
03000 256 687
Nant Gwrtheyrn - Venue
Llithfaen, Pwllheli, Gwynedd LL53 6NL
Tel: 01758 750 334
Any other questions
Contact us 03000 256 687 or email academiwaleswinterschool@gov.wales
Return to the Winter School web page
Chair
Paul Schanzer
Interim Director, Academi Wales
Paul has over 25 years' experience in leadership development after joining NHS Wales as a development practitioner during the 1990s.
Paul has worked in Academi Wales, Welsh Government since 2013. During this time he has taken the lead on governance, executive and board level development across the public and 3rd sectors in Wales.
Having developed senior team-assessment frameworks, for leaders, Paul is involved in enabling senior teams and boards. Helping them to identify the characteristics, approaches and strategies required for organisations to implement and sustain organisational high performance.
Paul has a particular interest in exploring concepts around individual, group and system dynamics and their impact on effective decision making at board level. Following completion of the 'Board Level Dynamics Programme' with the Tavistock Institute, he contributed a case study chapter to 'High Performing Boards – exploring the influence of unconscious behaviours for the Dynamics at Boardroom Level' (A Tavistock Primer for Leaders, Coaches and Consultants), published in 2019 by Routledge.
Speakers
Dr Margaret Heffernan
Margaret Heffernan is an entrepreneur, Chief Executive and author. She writes books and blogs, teaches and mentors senior and chief executives.
She was born in Texas, raised in Holland and educated at Cambridge University. She worked in BBC Radio for five years where she wrote, directed, produced and commissioned dozens of documentaries and dramas. For 8 years as a television producer, she made documentary films for Timewatch, Arena, and Newsnight. She designed and executive produced a thirteen part series on The French Revolution for the BBC and A&E. She also produced music videos with the London Chamber Orchestra to raise money for Unicef's Lebanese fund.
Leaving the BBC, she ran the trade association IPPA, which represented the interests of independent film and television producers and was once described by the Financial Times as "the most formidable lobbying organization in England."
In 1994, she returned to the United States where she worked on public affair campaigns in Massachusetts and with software companies trying to break into multimedia. She developed interactive multimedia products with Peter Lynch, Tom Peters, Standard & Poors and The Learning Company. She then joined CMGI where she ran, bought and sold leading Internet businesses, serving as Chief Executive Officer for InfoMation Corporation, ZineZone Corporation and iCAST Corporation. She was named one of the Internet's Top 100 by Silicon Alley Reporter in 1999, one of the Top 25 by Streaming Media magazine and one of the Top 100 Media Executives by The Hollywood Reporter. Her "Tear Down the Wall" campaign against AOL won the 2001 Silver SABRE award for public relations.
Margaret has published five books: 'The Naked Truth: A Working Woman's Manifesto' (Wiley, 2004) is about women's careers. 'Women on Top: How Female Entrepreneurs are Changing the Rules for Business Success' (Penguin 2007) charts the rise of female entrepreneurs. Her third book 'Wilful Blindness' (Simon & Schuster 2011 and an updated edition in 2019) was a finalist for the Financial Times/Goldman Sachs Best Business Book of the Year Award; the FT later described it as one of the most important books of the decade.
All of these works explore why and how companies packed full of talented, motivated and committed executives fail to spot major problems or to capture the full intellectual innovative capacity of their people. 'A Bigger Prize' (Simon & Schuster 2014) looks at what it takes for individuals and organizations to be truly creative and collaborative: where the barriers to achievement lie and how to overcome them. In 2015 TED published 'Beyond Measure: The Big Impact of Small Changes' which looks at the defining characteristics of sustainably innovative organizations. Margaret's TED talks have been seen by over 9 million people.
Margaret was featured on BBC Radio 4 in 'Changing the Rules', which won the 2008 Prowess Media Award. She has also written and presented several Analysis programmes for BBC Radio 4. Through Merryck & Co., she mentors global businesses leaders. She teaches at the School of Management at the University of Bath and has been invited to speak at business schools around the world, including Harvard Business School, the Rotman School, London Business School and the Lee Kuan Yew School of Public Policy. She also lectures widely at organizations as diverse as the Federal Bank of the United States, Accenture, Intel, Google, Microsoft, Roche, KLA-Tencor, State Street, Khosla Ventures, Standard Chartered Bank, Chrysler, J.P.Morgan Chase and Procter & Gamble. She also writes occasional pieces for the Financial Times.
Gemma Morgan
I trained at the Royal Military Academy Sandhurst and I was the first woman to be awarded the Carmen Sword from HRH Princess Royal, for outstanding performance as a young officer. I am a former international athlete, captaining Wales in lacrosse and competing across three World Cups. I was awarded the 'Most Valuable Player' in Europe at the 1997 Championships
As a keynote speaker, consultant and coach, I have 20 years international experience in leadership and team performance, across the military, business and elite sport sectors. I am a Fellow of the Institute of Leadership and Management. My work includes board level strategy facilitation, executive coaching with global brands and elite sports team development.
I am an Ambassador for the Charity 'Help for Heroes', supporting wounded, injured and sick British Armed Forces Veterans. I was proud to be part of the BBC TV documentary 'Gareth Malone and the Invictus Games Choir', and collaborated with HRH Prince Harry and Warner Brothers in the promotion of 'Dunkirk', the movie. Having suffered post-traumatic stress as a result of my military service, I campaign to promote better mental health awareness in organisations today.
Jonathan Stebbings
Senior Programme Director, Olivier Mythodrama
Jonathan has worked internationally as a facilitator, trainer, coach and keynote speaker since 1998. He works with CEOs and boards, as well as graduates and first line staff for organisations such as Barclays, BNP Paribas, Goldman Sachs, BNY Mellon, Aviva, HSBC, Hachette, Cisco, Freshfields, S&P Global, 3M, Stanley Black & Decker, Allied Domecq and Toyota.
He focuses on personal impact (including body and voice work), individual and organisational communication, management & leadership, and innovation & creativity.
Jonathan has an MA in English Literature and has taught Shakespeare and drama. He also has a broad commercial background, having worked as a commercial lawyer in London and Oxford, as well as for ICI.
He holds a Post Graduate Certificate in Education, is a Master Practitioner NLP and a Practitioner in Time Line Therapy & Hypnotherapy. He is certified in MBTI, SDI, Relationship Awareness Theory and TMSDI's Team Management Profile & QO2 Opportunity Orientation Profile.
He has been a lead presenter with Olivier Mythodrama™ since 2004.
https://www.oliviermythodrama.com/
Fons Trompenaars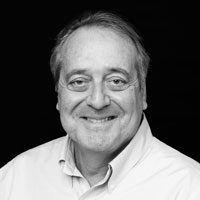 Fons is the leading authority on cross-cultural management. He has spent over 30 years helping Fortune 500 leaders manage and solve their business and cultural dilemmas to increase global effectiveness and performance, particularly in the areas of globalisation, mergers and acquisition, HR and leadership development.
Since 1997, Fons Trompenaars has been recognised as one of the foremost thinkers on connecting different cultures in business in Thinkers50 and was inducted in 2017 into the Thinkers50 Hall of Fame. He has sold over 0.5 million books in more than 10 languages, such as the bestseller Riding the Waves of Culture (3rd ed. 2012) that advocates dilemma-thinking as crucial when taking decisions in an intercultural context.
Trompenaars Hampden-Turner (also named after his regular co-author Charles Hampden-Turner) has offices in Amsterdam with a global network and operates the world's largest database in the field of intercultural management. Based on this data, Fons recently introduced the new Culture for Business App at TEDxAmsterdam and in 2013 and has added to this in the years with a Gender and Generation app. Through this App people will better understand the origins of different cultures and receive tips on how to do business in countries other than their own.
https://www2.thtconsulting.com/about/people/fons-trompenaars/